History - Ancient - Greece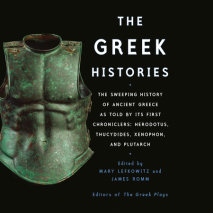 From the leading scholars behind The Greek Plays, a collection of the best translations of the foremost Greek historians, presenting a sweeping history of ancient Greece as recorded by its first chroniclers"Just the thing to remind us that huma...
From the acclaimed biographer of Jane Jacobs and Srinivasa Ramanujan comes the first full life and work of arguably the most influential classical scholar of the twentieth century, who overturned long-entrenched notions of ancient epic poetry and enl...
From the moderator of The New York Times philosophy blog "The Stone," a book that argues that if we want to understand ourselves we have to go back to theater, to the stage of our livesTragedy presents a world of conflict and troubling emotion, ...
Finalist for the Los Angeles Times Book Prize (Biography)A Hollywood love story, a Hollywood memoir, a dual biography of two of Hollywood's most famous figures, whose golden lives were lived at the center of Hollywood's golden age, writte...
Employing the popular Don't Know Much About® style, with its familiar question-and-answer format, DON'T KNOW MUCH ABOUT MYTHOLOGY will explore the myths of the world, their impact on history, and their continuing role in our lives. It will offe...
In Sailing the Wine-Dark Sea, his fourth volume to explore "the hinges of history," Thomas Cahill escorts the reader on another entertaining—and historically unassailable—journey through the landmarks of art and bloodshed...