The thrilling story behind the American pilots who were secretly recruited to defend the nation's desperate Chinese allies before Pearl Harbor and ended up on the front lines of the war against the Japanese in the Pacific.  Sam Kleiner&rsq...
A Financial Times Best Book of 2017"A shrewd and knowing book." —Robert D. Kaplan, The Wall Street Journal"A compelling and impressive read." —The Economist"Skillfully crafted and well-argued."...
A landmark biography by the New York Times bestselling author of Genghis Khan and the Making of the Modern World that reveals how Genghis harnessed the power of religion to rule the largest empire the world has ever known. Throughout history the worl...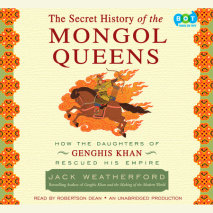 The Mongol queens of the thirteenth century ruled the greatest empire the world has ever known. Yet sometime near the end of the century, censors cut a section from The Secret History of the Mongols, leaving a single tantalizing quote from Genghis Kh...