History - Europe - Ireland
"Christopher Klein's fresh telling of this story is an important landmark in both Irish and American history." —James M. McPhersonJust over a year after Robert E. Lee relinquished his sword, a band of Union and Confederate veterans dusted off t...
NEW YORK TIMES BESTSELLER • From the author of Empire of Pain—a stunning, intricate narrative about a notorious killing in Northern Ireland and its devastating repercussions"Masked intruders dragged Jean McConville, a 38-year-old widow and...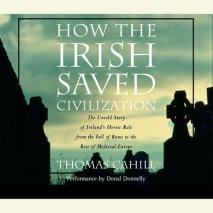 The perfect St. Patrick's Day gift, and a book in the best tradition of popular history -- the untold story of Ireland's role in maintaining Western culture while the Dark Ages settled on Europe. Every year millions of Americans celebrate St. Patrick...
One of Ireland's best current novelists provides a thumbnail sketch of Ireland's greatest writer. A passionate and sensuous portrait, James Joyce is a return to the land of politics, history, saints, and scholars that shaped the creator of the twent...