History - Latin America - South America
Now a major motion picture! Pablo Escobar was one of the most terrifying criminal minds of the last century. In the decade before his death in 1993, he reigned as the head of a multinational cocaine industry and brought the Colombian state to it...
Throughout the centuries, the Amazon has yielded many of its secrets, but it still holds a few great mysteries. In 1996 experts got their first glimpse of one: a lone Indian, a tribe of one, hidden in the forests of southwestern Brazil. Previously un...
In this riveting and relentless nonfiction thriller, award-winning investigative reporter William C. Rempel tells the harrowing story of former Cali cartel insider Jorge Salcedo, an ordinary man facing an extraordinary dilemma—a man forced to r...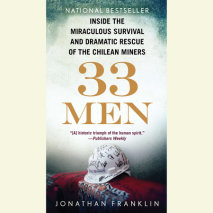 Having had unparalleled access to the Chilean mine disaster, award-winning journalist Jonathan Franklin takes readers to the heart of a remarkable story of human endurance, survival, and historic heroism.33 Men is the groundbreaking, authoritative ac...
A grand mystery reaching back centuries. A sensational disappearance that made headlines around the world. A quest for truth that leads to death, madness or disappearance for those who seek to solve it. The Lost City of Z is a blockbuster adventure n...