History - Caribbean & West Indies
"[DePalma] renders a Cuba few tourists will ever see . . . You won't forget these people soon, and you are bound to emerge from DePalma's bighearted account with a deeper understanding of a storied island . . . A remarkably revealing glimpse into the...
Here is the story of political prisoners finally freed in December 2014, after being held captive by the United States since the late 1990s.Through the 1980s and 1990s, violent anti-Castro groups based in Florida carried out hundreds of military atta...
The surprising story of Che Guevara, Fidel Castro, and the scrappy band of rebel men and women who followed them.Most people are familiar with the basics of the Cuban Revolution of 1956–1959: it was led by two of the twentieth century's m...
In this widely hailed book, NPR correspondent Tom Gjelten fuses the story of the Bacardi family and their famous rum business with Cuba's tumultuous experience over the last 150 years to produce a deeply entertaining historical narrative. The company...
NEW YORK TIMES BESTSELLER • NAMED ONE OF THE BEST BOOKS OF THE YEAR BY CHICAGO TRIBUNE • A thrilling adventure of danger and deep-sea diving, historic mystery and suspense, by the author of Shadow Divers Finding and iden...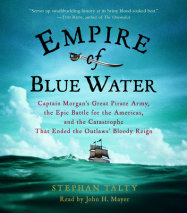 He challenged the greatest empire on earth with a ragtag bunch of renegades—and brought it to its knees. Empire of Blue Water is the real story of the pirates of the Caribbean. Henry Morgan, a twenty-year-old Welshman, crossed the Atlanti...