Humor - Form - Comic Strips & Cartoons
Based on the wildly popular characters from Coolman Coffeedan, a colorful and charming collection of parables reminding us to face our fears, our anxieties, and our self-consciousness head-on.What do a naked cat, a sad turtle, an armless robot, and a...
Netflix series Oddballs coming later this year!An instant New York Times bestseller!The sequel to the New York Times bestselling The Odd 1s Out, with all new and never-before-seen content featuring opinions, stories, and signature character...
From his hardscrabble post-World War II Ontario childhood and coming of age to Mad Men-era New York City and the creative pinnacle of advertising, to the hallowed halls of Saturday Night Live and The New Yorker, Bruce McCall&...
From the creator of Drawings of Dogs, a thoughtful examination of empathy and the necessity of being kinderThe kindness we owe one another goes far beyond the everyday gestures of feeding someone else's parking meter--although it's important not to d...
The creators of the podcast The Dollop present illustrated profiles of the weird, outrageous, NSFW, and downright absurd tales from American history that you weren't taught in school.The United States of Absurdity presents short, informativ...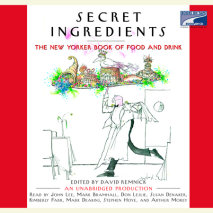 Since its earliest days, The New Yorker has been a tastemaker–literally. As the home of A. J. Liebling, Joseph Wechsberg, and M.F.K. Fisher, who practically invented American food writing, the magazine established a tradition that is carried ...