An NPR Best Book of 2018

"How to Invent Everything is such a cool book. It's essential reading for anyone who needs to duplicate an industrial civilization quickly." --Randall Munroe, xkcd creator and New York Times-bestselling author of What If.
Prepare to learn everything we still don't know about our strange and mysterious universe.

Humanity's understanding of the physical world is full of gaps. Not tiny little gaps you can safely ignore —there are huge yawning voids in our basic notions of how the world works.
A gleefully gruesome look at the actual science behind the most outlandish, cartoonish, and impossible deaths you can imagine

What would happen if you took a swim outside a deep-sea submarine wearing only a swimsuit. How long could you last if you stood on the surface of the sun.
YouTube sensation Matthew Santoro amazes with eye-opening facts that are sure to blow your mind.

Matthew Santoro's originality and humor has attracted millions of fans, making him a beloved YouTube star. His weekly videos on amazing and little-known facts are eagerly anticipated by his many subscribers and followers around the world.
Make no mistake. Our founding fathers were more bandanas-and-muscles than powdered-wigs-and-tea.

As a prisoner of war, Andrew Jackson walked several miles barefoot across state lines while suffering from smallpox and a serious head wound received when he refused to polish the boots of the soldiers who had taken him captive.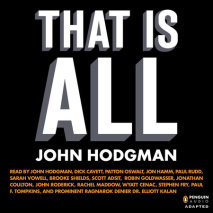 John Hodgman-bestselling author, The Daily Show's "Resident Expert", minor television celebrity, and deranged millionaire-brings us the third and final installment in his trilogy of Complete World Knowledge.
In 2005, Dutton published The Areas of My Expertise, a handy little book of Complete World Knowledge, marked by the distinction that all of the fascinating trivia and amazing true facts were completely made up by its author, John Hodgman.
The New York Times bestseller by Famous Minor Television Personality John Hodgman—The Daily Show's "Resident Expert" and the "PC" in the iconic Apple ads—picks up exactly where his first book left off. In fact, "the new volume is in every way a continuation of Areas of My Expertise, except in the ways it's clearly superior.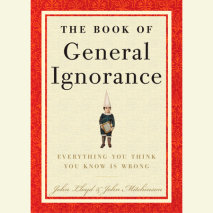 Misconceptions, misunderstandings, and flawed facts finally get the heave-ho in this humorous, downright humiliating book of reeducation based on the phenomenal British bestseller.

Challenging what most of us assume to be verifiable truths in areas like history, literature, science, nature, and more,The Book of General Ignorance is a witty "gotcha" compendium of how little we actually know about anything.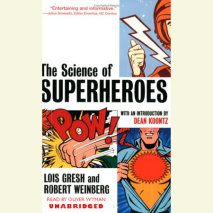 The Science of Superheroes takes a lighthearted but clear-headed look at the real science that underlies some of the greatest superhero comic books of all time, including Spider-Man, Batman, Fantastic Four, and many more. Each chapter presents the story of the origin of one or more superheroes and asks intriguing questions that lead to fascinating discussions about the limits of science, the laws of nature, and the future of technology.