Humor - Topic - Cultural, Ethnic & Regional
One-of-a-kind timeless lessons for handling challenges and living with joy, the Italian way—"with unparalleled insight and brilliant wit, Severgnini's book not only transports us to Italy but deep into the Italian mind and spirit" (...
A stirring, witty, and poignant glimpse into the bewildering American immigrant experience from someone who has lived it. Hakakian's "love letter to the nation that took her in [is also] a timely reminder of what millions of human bein...
At long last, a much-needed guidebook for well-intentioned people of pallor on what not to say to their African American "friends."Greetings, well-intentioned person of pallor.Your good intentions used to be enough. But in these diverse and divisive ...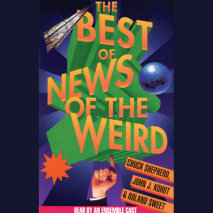 For news junkies and fans of the bizarre-but-true, here is an outrageous collection of all-real, all-weird news stories culled from the nation's mainstream newspapers!