Juvenile Nonfiction - Biography & Autobiography - Performing Arts
Who doesn't love Lucy? The legendary actress, producer, and comedian steps into the Who Was? spotlight.Much like her hit TV show, I Love Lucy, Americans in the 1950s fell in love with Lucy. Born in New York in 1911, Lucille Ball was always ...
Jim Henson broke into television with a five-minute puppetry segment when he was only a freshman in college. He created puppets like none ever seen before, with expressive fabric faces and rod-controlled arms. His Muppets became world-renowned celebr...
Bruce Lee was a Chinese American action film star, martial arts instructor, filmmaker, and philosopher. His Hong Kong and Hollywood-produced films elevated the traditional martial arts film to a new level of popularity and acclaim.  Through such...
Known as one of the most influential filmmakers of all time, Alfred Hitchcock's unique vision in movies like Psycho and The Birds sent shivers down our spines and shockwaves through the film industry. His innovative camera t...
Born in 1925, Maria Tallchief spent part of her childhood on an Osage reservation in Oklahoma. With the support of her family and world-renowned choreographer George Balanchine, she rose to the top of her art form to become America's first prima ball...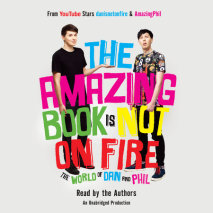 If you found The Amazing Book is Not on Fire at least mildly interesting, or even if you didn't read it at all, then you will LOVE our audiobook! Not only do you get us sensually narrating the whole thing in your ears, but there a...
As a child his passions were comics and cars, but George Lucas grew up to be one of the most successful filmmakers of all time.  He is a producer, screenwriter, director and entrepreneur whose company Lucasfilms pioneered the movie effects that ...