Juvenile Nonfiction - Family
A dedicated mom puts love into action as she creates the perfect rainbow-colored wig for her transgender daughter, based on the real-life experience of mother-daughter advocate duo Trinity and DeShanna Neal.Warm morning sunlight and love fill the Nea...
First-grader Tomie dePaola experiences uncertainty in the weeks following the attack on pearl Harbor, December 7, 1941. What are the grown-ups talking quietly about at home and even at school? Why does his class have to go to the spooky furnace room ...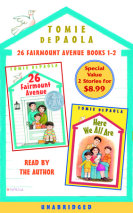 In a heartwarming first-person account, dePaola retells his experiences at home and in school when he was a boy. 26 Fairmount Avenue is full of humor, drama, suspense and just the day to day ups and downs of a little boy's life.