Juvenile Nonfiction - History - Europe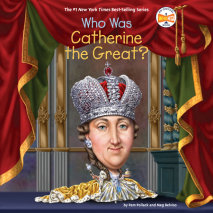 Learn how a Prussian princess grew up to be Russia's longest-ruling female leader!Born in 1729, Princess Sophie of Anhalt-Zerbs was never supposed to come to power. But at age sixteen, she married the heir to the Russian throne. By 1762, Sophie, know...
Hold on to your Viking helmets as you learn about the first known European to set foot on North America in this exciting addition to the Who Was? series!Leif Erikson was born to be an explorer. His father, Erik the Red, had established the first Euro...
Isaac Newton was always a loner, preferring to spend his time contemplating the mysteries of the universe. When the plague broke out in London in 1665 he was forced to return home from college. It was during this period of so much death, that Newton ...
From the palaces of Austria to the mirrored halls of Versailles, Marie Antoinette led a charmed life. She was born into royalty in 1755 and married the future king of France at age 15. By 21 she ascended to the throne and enjoyed a lavish lifestyle o...
He came. He saw. He conquered. Julius Caesar was a force to be reckoned with as a savvy politician, an impressive orator, and a brave soldier. Born in Rome in 100 BC, he quickly climbed the ladder of Roman politics, making allies--and enemies--along ...
Her reign of 63 years and seven months is known as the Victorian Era, a period of industrial, cultural, scientific, and political change that was marked by a great expansion of the British Empire.  But Victoria was raised under close supervision...
Claude Monet is considered one of the most influential artists of all time. He is a founder of the French Impressionist art movement, and today his paintings sell for millions of dollars. While Monet was alive, however, his work was often criticized ...