Juvenile Nonfiction - History - Renaissance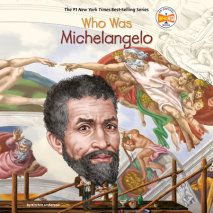 Travel to Renaissance Italy and learn about the young apprentice who went on become a true master, and one of the most beloved sculptors and painters of all time, Michelangelo!Michelangelo created some of the world's most recognizable art, from ...
The famous Renaissance artist and inventor Leonardo da Vinci is the twentieth hero in the New York Times bestselling biography series.This friendly, fun biography series focuses on the traits that made our heroes great--the traits that kids...
When Portuguese sailor Ferdinand Magellan set sail from Spain in 1519, he believed he could get to the Spice Islands by sailing west through or around the New World. He was right, but what he didn't know was that the treacherous voyage would take him...
Leonardo da Vinci was a gifted painter, talented musician, and dedicated scientist and inventor, designing flying machines, submarines, and even helicopters.  Yet he had a hard time finishing things, a problem anyone can relate to.  Only th...
Like Michelangelo, Galileo is another Renaissance great known just by his first name--a name that is synonymous with scientific achievement. Born in Pisa, Italy, in the sixteenth century, Galileo contributed to the era's great rebirth of knowledge. H...