Juvenile Nonfiction - People & Places - Middle East
The Caldecott Honor-winning true story of Mohammad Alaa Aljaleel, who in the midst of the Syrian Civil War courageously offered safe haven to Aleppo's abandoned cats. Aleppo's city center no longer echoes with the rich, exciting sounds of copper...
Malala Yousafzai was a girl who loved to learn but was told that girls would no longer be allowed to go to school. She wrote a blog that called attention to what was happening in her beautiful corner of Pakistan and realized that words can bring abou...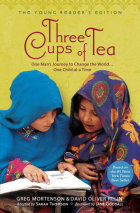 This young readers edition of the worldwide bestseller Three Cups of Tea has been specially adapted for younger readers and updated by Greg Mortenson to bring his remarkable story of humanitarianism up to date for the present.