Juvenile Nonfiction - Sports & Recreation - Baseball & Softball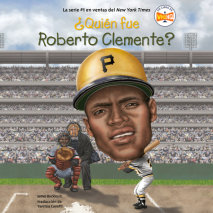 La trayectoria relámpago de Roberto Clemente, que pasó de ser un adolescente con talento a un deportista legendario, es una historia para los libros de récords. Descubra cómo un joven de Puerto Rico se convirtió en ...
This New York Times Bestselling biography series by Brad Meltzer has an inspiring message: We can all be heroes. Jackie Robinson always loved sports, especially baseball. But he lived at a time before the Civil Rights Movement, when the rules we...
Growing up the youngest of seven children in Puerto Rico, Roberto Clemente had a talent for baseball. His incredible skill soon got him drafted into the big leagues where he spent 18 seasons playing right field for the Pittsburgh Pirates. Who Wa...
When Derek Jeter was eight years old, he announced that he was going to play baseball for the New York Yankees. Jeter earned the attention of major league scouts in high school and was drafted to the New York Yankees in 1992. Named Rookie of the Year...
As a kid, Jackie Robinson loved sports. And why not? He was a natural at football, basketball, and, of course, baseball. But beyond athletic skill, it was his strength of character that secured his place in sports history. In 1947 Jackie joined the B...