Juvenile Fiction - Animals - Frogs & Toads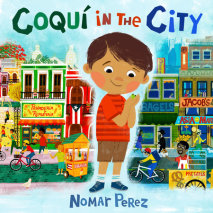 A heartfelt adapted-for-audio picture book based on the author-illustrator's own experiences, about a boy who moves to the U.S. mainland from Puerto Rico and realizes that New York City might have more in common with San Juan than he initially though...
In the third book in the spinoff of the Humphrey series, Og and Humphrey head to summer camp to see what's hopping in the wilderness!Og didn't know where he would end up when school was over, but it turns out Camp Happy Hollow is just about the best ...
In the second book in the Og the Frog spinoff of the Humphrey series, Og is ready for adventure and is jumping at the chance to help kids be brave!Og loves the kids in Room 26, but he's awfully curious about the human world outside his tank! His frie...
Froggy has never celebrated Christmas; usually he's taking his long winter's nap. But not this year! Froggy's best friend, Max the beaver, wakes him up to join the fun. Soon, Froggy's gotten into the swing of things: finding a tree, wrapping presents...
The adventures in Humphrey's Room 26 are hopping back into the spotlight, from the perspective of Og the Frog!When Og the Frog first comes to Room 26, he doesn't know what to think. He misses his friends from the pond, there are all kinds of strange ...
From the author of The Magic Circle, Zel, and Stones in Water.Who is that handsome green stranger? None of the pond dwellers has ever seen the peculiar new frog before. They found him sitting in a pile of human clothes outside the hag's ho...
After the holidays, Humphrey is shocked by a big surprise in Room 26-a new class pet! Humphrey tries to be welcoming, but Og the frog doesn't respond to any of his friendly squeaks or visits (remember, he has a lock-that-doesn't-lock). Plus, the stud...