Juvenile Fiction - Animals - Squirrels
From Good Morning America anchor Amy Robach and her husband, actor Andrew Shue comes a sweet tale about finding common ground and accepting and appreciating each others' differences.When a big thunderstorm shakes their woodland home, the Squirrelly f...
Meet Toaff: a lovable squirrel, and new standout character, searching for a place to call home in this gem of a story by a Newbery Medal-winning author. Toaff is a small squirrel full of big questions. Why must I stay away from the human's house? Why...
Doreen Green, age fourteen, is a little too busy wiping out crime in her suburban New Jersey neighborhood to focus on her overdue homework. That's because she also happens to be Squirrel Girl, a bushy-tailed, squirrel-powered Super Hero!After foiling...
Who Runs the World? Squirrels! Fourteen-year-old Doreen Green moved from sunny California to the suburbs of New Jersey. She must start at a new school, make new friends, and continue to hide her fluffy tail. Yep, Doreen has the powers of . . . a squi...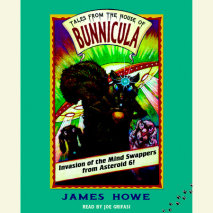 Bunnicula and his friends are back. In this story, aliens have made thier way to Earth, and Howie, not only must save the planet, but keep Delilah from danger. Will he succeed?