Juvenile Fiction - Animals - Ducks, Geese, etc.
When the wild geese migrate over the little pond with its pink flamingos and clipped grass, Skylar and the others watch with envy. They like their pond, but there is something elegant and brave about being a real wild goose. But they've never flown b...
Mrs. Mallard was sure that the pond in the Boston Public Gardens would be a perfect place for her and her eight ducklings to live.  The problem was how to get them there through the busy streets of Boston.  But with a little help from the B...
From the author of the popular A to Z Mysteries comes a story of magical mayhem featuring the younger siblings of the A to Z Mysteries kids!May is for Magic...In the fifth book of the Calendar Mysteries - an early chapter book mystery series - twins ...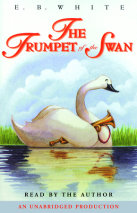 Louis is a Trumpeter Swan, but he has no voice. Though he is frightened when his father explains to him that he is different from the other cygnets, Louis is resourceful and determined. Leaving his wild and beautiful home, he finds a young human frie...
A Newbery Honor BookAn ALA Notable BookA Children's Editors' ChoiceIt all started when Georgie, hardly more than a wisp of thistledown, discovered she could jump down twelve steps in two big graceful bounds. Next, to her great delight, she learned t...