Juvenile Fiction - Concepts - Money
Read by the authorapprox. 4 hours3 cassettesFudge is back and he's discovered money in a big way. He's making his own "Fudge Bucks," dressing as a miser for Halloween and thumbing through catalogs before bed, choosing birthday and Christmas...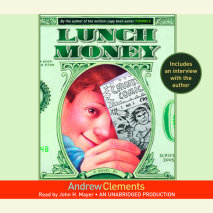 Greg had started looking around the cafeteria, and everywhere he looked, he saw quarters. He saw kids trading quarters for ice cream sandwiches and cupcakes and cookies at the dessert table. He saw kids over at the school store trading quarters for n...