Juvenile Fiction - Fairy Tales & Folklore - Country & Ethnic
Summer of the Mariposas is a magical Mexican American retelling of The Odyssey--and a celebration of sisterhood and maternal love.When Odilia and her four sisters find a dead body in the swimming hole, they embark on a hero's journey to return the de...
This is the beloved Strega Nona's own story, every detail just as she remembers it, from her childhood with Grandma Concetta, who trained young Nona and her best friend Amelia, to her early days in the little house on the hill and the happy mome...
From the beloved New York Times bestselling author-illustrator of Thank You, Mr. Falker and Pink and Say.Baba Yaga is a witch famous throughout Russia for eating children, but this Babushka Baba Yaga is a lonely old woman who just want...
In the vein of The Boy in the Striped Pajamas and Number the Stars, this fusion of fairy tales, folklore, and World War II history eloquently illustrates the power of love and the inherent will to survive even in the darkest of times. In the lan...
Read by a cast of award-winning narrators, this collection contains some of the most timeless and enchanting folk and fairy tales collected by the Brothers Grimm.The Brothers Grimm collected the original fairy tales that Americans are most familiar w...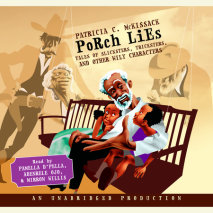 Side-splittingly funny, spine-chillingly spooky, this companion to a Newbery Honor–winning anthology The Dark Thirty is filled with bad characters who know exactly how to charm. From the author's note that takes us back to McKissack's own chi...
You are about to embark on a remarkable journey. It begins on the teeming streets of Kolkata, India, and will transport you across arid plains and turbulent rivers to a secret valley high in the Himalayas. Along the way you will encounter powerful sp...