Juvenile Fiction - Legends, Myths, Fables - Asian
Best-selling author Rick Riordan presents the third book in the Hindu-based, best-selling Pandava series by Roshani Chokshi, in which Aru and her cohorts, Mini, Brynne, and Aiden--and now a pair of twins--search the Otherworld for Kalpavriksha, the w...
Would you make a deal with a magical tiger? This uplifting story brings brings Korean folklore to life as a girl goes on a quest to unlock the power of stories and save her grandmother.Some stories refuse to stay bottled up...When Lily and her family...
Winner of the Newbery Medal   For generations the tribes of Huns and Magyars had moved relentlessly westward, obeying the voices of their pagan gods, which compelled them to follow the elusive white stag to their promised homeland. They swept Eu...
Rick Riordan Presents Yoon Ha Lee's space opera about thirteen-year-old Min, who comes from a long line of fox spirits. But you'd never know it by looking at her.To keep the family safe, Min's mother insists that none of them use any fox-magic, such ...
In this Caldecott Medal-winning tale set in Old Japan, a lively little woman who loves to laugh pursues her runaway dumpling—and must outwit the wicked three-eyed oni when she lands in their clutches.   "The pictures are in perfect h...
A dozen fables by one of the world's great storytellers.  The twelve magical JUST SO STORIES tell, how the leopard got his spots? Why the rhinoceros  has his wrinkly skin? Why is a kangaroo very fast on land? Why won't cats come when ...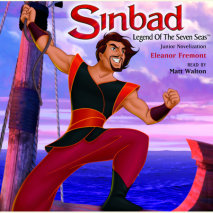 Sinbad, the most daring and notorious rogue ever to sail the seven seas, is joined by the beautiful Marina on his greatest adventure. Together, they must battle Eris, the powerful goddess of Chaos to save the fabled Book of Peace and the life of Sinb...