Juvenile Fiction - Holidays & Celebrations - Easter & Lent
A lyrical, captivating retelling of the Palm Sunday and Easter story from National Book Award nominee Mitali Perkins, author of Rickshaw Girl, that is sure to become a beloved tradition for families of faith.Little Wind and the trees of Jerusalem can...
USA TODAY AND ECPA BESTSELLER • A delightful children's book, adapted for audio, for listeners ages 3 and up, God Gave Us Easter features the adorable polar bear Little Cub, talking with her father and learning about God's design for the Easter ...
With short and simple rhyming text, the Llama Llama board books introduce Llama Llama to babies and toddlers before they're ready for longer full-length stories. And now they're available on audio, too!In Llama Llama Easter Egg, The Easter Bunny brin...
Old Babushka, known throughout all of Moskva for her beautifully painted eggs, is preparing her eggs for the Easter Festival when she takes in an injured goose. She names the goose Rechenka, and they live happily together until one day when Rechenka ...
From the author of A to Z Mysteries comes a springtime egg hunt mystery featuring the younger siblings of the A to Z Mysteries kids!It's a mystery every month from popular A to Z Mysteries author Ron Roy! With the younger siblings of the A to Z Myste...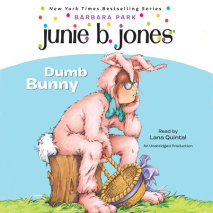 Join Junie B. Jones, the world's funniest first grader and star of a beloved and mega-bestselling chapter book series, on this egg-citing springtime adventure!Barbara Park's New York Times bestselling chapter book series, Junie B. Jones, is a classro...