Juvenile Fiction - People & Places - Middle East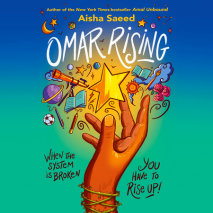 "Irresistibly appealing and genuinely inspiring—a story that helps us to see the world more clearly, and to see ourselves as powerful enough to change it." —Rebecca Stead, author of Newbery Award Winner When You Reach MeIn thi...
In this stunning sequel to The Breadwinner Trilogy, Parvana, now 15-years-old, is found in a bombed-out school and held as a suspected terrorist by American troops in Afghanistan.The girl does not respond to questions in any language and remains sile...
"Saeed's timely and stirring middle-grade debut is a celebration of resistance and justice."--Kirkus Reviews, starred reviewThe compelling story of a girl's fight to regain her life and dreams after being forced into indentured servitude.Life is quie...
In the vein of Year of the Dog and The Higher Power of Lucky, this Middle Eastern coming-of-age story is told with warmth, spirit, and a mischievous sense of humor Spunky eleven-year-old Wadjda lives in Riyadh, Saudi Arabia with her parents. She...
That was where she needed to be, in a field of purple flowers, where no one could bother her. She would sit there until the confusion left her head and the stink of the camp left her nostrils.Shauzia has a dream. She dreams of getting away from the r...
'My life is dust and rocks and rude boys and skinny babies, and long days of searching for my mother when I don't have the faintest idea where she might be.'Parvana is alone. Her father is dead. A refugee in a land full of dangers, ...
Imagine living in a country in which women and girls are not allowed to leave the house without a man. Imagine having to wear clothes that cover every part of your body, including your face, whenever you go out.In this powerful and realistic tale, e...