Juvenile Fiction - Sports & Recreation - Cycling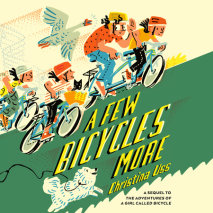 In the sequel to the popular Adventures of a Girl Called Bicycle, our hero reunites with her long-lost family and attempts a daring vehicular rescue. A Few Bicycles More is the exciting sequel to Christina Uss's Adventures of a Girl Called...
Samantha's story begins with the first book in her series. Samantha is a wealthy orphan growing up in 1904. Her grandmother is raising her as a proper young lady with the best of everything. Still, Samantha is lonely. When her Uncle Gard comes...
A determined 12-year-old girl bikes across the country in this quirky and charming debut middle grade novel.Introverted Bicycle has lived most of her life at the Mostly Silent Monastery in Washington, D.C. When her guardian, Sister Wanda, announces t...