Juvenile Fiction - Religious - Christian - Inspirational
#1 NEW YORK TIMES BESTSELLER • The late, beloved Rachel Held Evans answers many children's first question about God in this gorgeous picture book, fully realized by her friend Matthew Paul Turner, the bestselling author of When God Made You.Chil...
NEW YORK TIMES BESTSELLER • From Grammy-winning pop star Ciara and Super Bowl champion quarterback Russell Wilson comes a picture book to inspire young readers to see the value in themselves, be brave, and go after their biggest dreams!   W...
A lyrical, captivating retelling of the Palm Sunday and Easter story from National Book Award nominee Mitali Perkins, author of Rickshaw Girl, that is sure to become a beloved tradition for families of faith.Little Wind and the trees of Jerusalem can...
This heartwarming picture book reassures children that a parent's love never lets go—based on the poignant lyrics of JJ Heller's beloved lullaby "Hand to Hold.""May the living light inside you be the compass as you...
From the author of the bestselling children's book When God Made You comes a rhythmic, whimsical journey through creation--for little readers who love science and wonder and the beginnings of all things.For spiritual parents who are looking for a dif...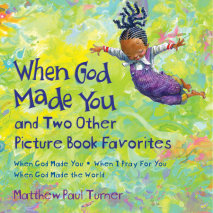 When God Made YouFrom early on, children are looking to discover their place in the world and longing to understand how their personalities, traits, and talents fit in. The assurance that they are deeply loved and a unique creation in our big univers...