Juvenile Fiction - Social Themes - Manners & Etiquette
Adam Grant, the bestselling author of Give and Take, teams with his wife, Allison, to share the lighthearted tale of a gift in search of a giver--a classic in the making.A mysterious gift box finds himself in search of someone to open him, but nobody...
They're back! Rediscover the zaniest characters you've ever met in this bestselling series which has sold millions worldwide. Bright and charming, with easily recognizable characters, Little Miss audiobooks are easy enough for young liste...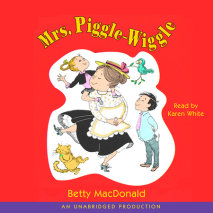 Mrs. Piggle-Wiggle lives in an upside-down house and smells like cookies. She was even married to a pirate once. Most of all, she knows everything about children. She can cure them of any ailment. Patsy hates baths. Hubert never puts anything away. A...