Juvenile Fiction - Westerns
INSTANT NEW YORK TIMES BESTSELLER • NAMED ONE OF THE BEST CHILDREN'S BOOKS OF THE YEAR BY THE WALL STREET JOURNAL "Perfection." –The Wall Street Journal The bestselling author of Wonder returns with an enthralling adventu...
Learn all about the day-to-day life of a cowboy in the Old West, from round-ups and trail drives to meals around the campfire and nights under the stars.
The fourth book in the Hoofbeats series focusing on Katie!With trepidation, Katie continues Westward with the Kylers. The mountainous terrain makes for difficult traveling, and they arrive in Oregon shortly before the winter snows hit. While the Kyle...
The third book in the Hoofbeats series focusing on Katie!Katie knows she has come too far to give up. Taken under the Kylers' wing, she stays close to the Mustang and clings to her dream of finding her uncle. Then a particularly bad river crossi...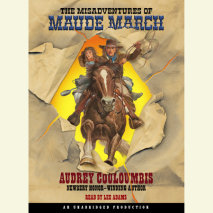 Eleven-year-old Sallie March is a whip-smart tomboy and voracious reader of Western adventure novels. When she and her ladylike older sister Maude are orphaned for the second time, they decide to take matters into their own hands and escape their sel...
"An exciting adventure...a winning tale that artfully combines history, nature and suspense." —School Library JournalA DANGEROUS MYSTERY AND A BOY DETERMINED TO SOLVE IT...After a sailing ship breaks up on the rocks off Washington&r...