Juvenile Fiction - Recycling & Green Living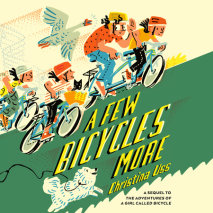 In the sequel to the popular Adventures of a Girl Called Bicycle, our hero reunites with her long-lost family and attempts a daring vehicular rescue. A Few Bicycles More is the exciting sequel to Christina Uss's Adventures of a Girl Called...
An eighth grader starts a podcast on climate activism and rallies her friends to create lasting change in their local community and beyond, in this companion to Dress Coded.When Mary Kate Murphy joins a special science pilot program focused on climat...
A sweet picture book, adapted for audio, about a girl who finds a special dress at a thrift store and imagines who may have owned the dress before her.When Rosie finds the most beautiful yellow dress at her local thrift store, the first thing she not...
Evette is a nature-lover full of crafty ideas for reusing and upcycling clothes. When she finds a vintage swimsuit in Gran E's closet, she also uncovers a family secret that could explain why her mother's family, which is Black, and her f...