Language Arts & Disciplines - Linguistics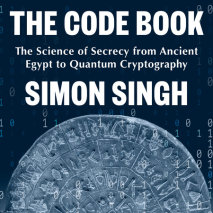 In his first book since the bestselling Fermat's Enigma, Simon Singh offers the first sweeping history of encryption, tracing its evolution and revealing the dramatic effects codes have had on wars, nations, and individual lives. From Mary, Queen of ...
At long last, a much-needed guidebook for well-intentioned people of pallor on what not to say to their African American "friends."Greetings, well-intentioned person of pallor.Your good intentions used to be enough. But in these diverse and divisive ...
"Do you want to write clearer, livelier prose? This witty primer will help." —The New York Times Book ReviewAn exploration of how the most ordinary words can be turned into verbal constellations of extraordinary grace through t...
AN INSTANT NEW YORK TIMES BESTSELLER!! Named a Best Book of 2019 by TIME, Amazon, and The Washington Post A Wired Must-Read Book of Summer   "Gretchen McCulloch is the internet's favorite linguist, and this book is essential reading....