Literary Criticism - American
A deeply felt, beautifully crafted meditation on friendship and loss in the vein of A Year of Magical Thinking, and a touching portrait of Philip Roth from his closest friend.I had a baseball question on the tip of my tongue: What was the name of "th...
The Nobel Prize-winning author now gives us a learned, stylish, and immensely persuasive work of literary criticism that promises to change the way we read American literature even as it opens a new chapter in the American dialogue on race.Toni ...
A ruthlessly honest, emotionally charged, and utterly original exploration of Asian American consciousness and the struggle to be human"Brilliant . . . To read this book is to become more human."—Claudia Rankine, author of Citi...
A New York Times bestsellerThe author of the beloved #1 New York Times bestseller Reading Lolita in Tehran returns with the next chapter of her life in books—a passionate and deeply moving hymn to America Ten years ago, Azar Nafisi electri...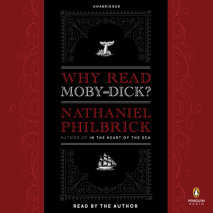 A "brilliant and provocative" (The New Yorker) celebration of Melville's masterpiece—from the bestselling author of In the Heart of the Sea, Valiant Ambition, and In the Hurricane's EyeOne of the greatest American novels ...