An illuminating, millennia-spanning history of the impact mathematics has had on the world, and the fascinating people who have mastered its inherent power, from Babylonian tax officials to the Apollo astronauts to the eccentric professor who invente...
The companion book to COURSERA®'s wildly popular massive open online course "Learning How to Learn"Whether you are a student struggling to fulfill a math or science requirement, or you are embarking on a career change that requires a new skill s...
Is there a secret formula for getting rich? For going viral? For deciding how long to stick with your current job, Netflix series, or even relationship?This book is all about the equations that make our world go round. Ten of them, in fact. They are ...
From the New York Times-bestselling author of How Not to Be Wrong—himself a world-class geometer—a far-ranging exploration of the power of geometry, which turns out to help us think better about practically everythingHow should ...
A guide to changing how you think about numbers and mathematics, from the prodigy changing the way the world thinks about math.We all know math is important: we live in the age of big data, our lives are increasingly governed by algorithms, and we're...
#1 INTERNATIONAL BESTSELLER   AN ADAM SAVAGE BOOK CLUB PICKThe book-length answer to anyone who ever put their hand up in math class and asked, "When am I ever going to use this in the real world?" "Fun, informative, and ...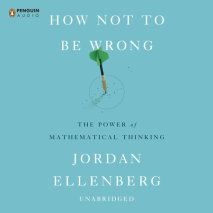 The Freakonomics of math—a math-world superstar unveils the hidden beauty and logic of the world and puts its power in our handsThe math we learn in school can seem like a dull set of rules, laid down by the ancients and not to be questioned. I...