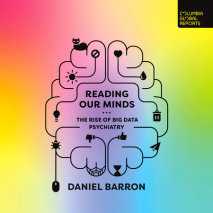 What is Psychiatry and How Can We Improve It?In the last hundred years, most of the medical sciences have progressed in immense and unforeseeable ways―except for psychiatry, which has somehow remained immune to this progress. Daniel Barron, a p...
#1 New York Times bestseller"Essential reading for anyone interested in understanding and treating traumatic stress and the scope of its impact on society." —Alexander McFarlane, Director of the Centre for Traumatic Stress StudiesA ...
*New York Times Books to Watch for in July**Time Best New Books July 2020*Galvanized by her work in our nation's jails, psychiatrist Christine Montross illuminates the human cost of mass incarceration and mental illnessDr. Christine Montross has...
"In all my years studying personal growth, Acceptance and Commitment Therapy is one of the most useful tools I've ever come across, and in this book, Dr. Hayes describes it with more depth and clarity than ever before."-Mark Manson, #1 New York Times...
A founder of the field of evolutionary medicine uses his decades of experience as a psychiatrist to provide a much-needed new framework for making sense of mental illness.With his classic book Why We Get Sick, Dr. Randolph Nesse helped to establish t...
New York Times bestseller · This groundbreaking new book from New York Times bestselling author Daniel J. Siegel, M.D., introduces readers to his pioneering, science-based meditation practice.Aware provides practical instruction for ...
The electrifying, forgotten history of Robert Heath's brain pacemaker, investigating the origins and ethics of one of today's most promising medical breakthroughs: deep brain stimulationThe technology invented by psychiatrist Robert G. Heath in the 1...