Nature - Ecosystems & Habitats - Oceans & Seas
The story of the urgent fight to save coral reefs, and why it matters to us allCoral reefs are a microcosm of our planet: extraordinarily diverse, deeply interconnected, and full of wonders. When they're thriving, these fairy gardens hidden ben...
An accessible guide to the changes we can all make—small and large—to rid our lives of disposable plastic and clean up the world's oceans It takes 450 years for a plastic bottle to fully biodegrade, and there are around 12.7 million...
By the bestselling author of Four Fish and American Catch, an eye-opening investigation of the history, science, and business behind omega-3 fatty acids, the "miracle compound" whose story is intertwined with human health and the future of our planet...
NAMED A BEST BOOK OF THE YEAR BY THE CHRISTIAN SCIENCE MONITOR AND PASTE MAGAZINEAn intimate account of life in a West African fishing village, tugged by currents ancient and modern, and dependent on an ocean that is being radically transformed.The s...
"A book full of wonders" —Helen Macdonald, author of H Is for Hawk"Witty, insightful. . . .The story of jellyfish. . . is a significant part of the environmental story. Berwald's engaging account of these delicate, often ignored creatures ...
From Susan Casey, bestselling author of The Devil's Teeth, an astonishing book about colossal,  ship-swallowing rogue waves and the surfers who seek them out. For centuries, mariners have spun tales of gargantuan waves, 100-feet high or ta...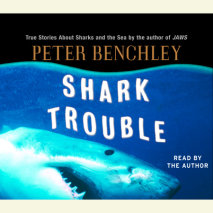 Drawing on more than three decades of experience writing about sharks and other marine animals, the bestselling author of Jaws combines high adventure with practical information in a book that is at once a thriller and a valuable guid...