Nature - Animals - Wildlife
"A remarkable combination of biology, genetics, zoology, evolutionary psychology and philosophy." —Richard Powers, Pulitzer Prize-winning author of The Overstory"A brilliant, thought-provoking book." —Matt Hai...
From the host of the Travel Channel's "The Wild Within."A hunt for the American buffalo—an adventurous, fascinating examination of an animal that has haunted the American imagination. In 2005, Steven Rinella won a lottery...
A passionate naturalist explores what it's really like to be an animal―by living like themHow can we ever be sure that we really know the other? To test the limits of our ability to inhabit lives that are not our own, Charles Foster set o...
"This is a gorgeous, lyrical, hilarious, important book. . . . Read this and you may find yourself instinctively beginning to heal old wounds: in yourself, in others, and just maybe in the cathedral of the wild that is our true home."&mda...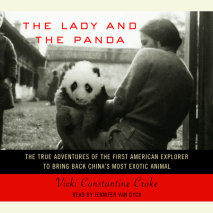 Here is the astonishing true story of Ruth Harkness, the Manhattan bohemian socialite who, against all but impossible odds, trekked to Tibet in 1936 to capture the most mysterious animal of the day: a bear that had for countless centuries lived in se...