Philosophy - History & Surveys - Ancient & Classical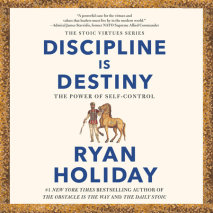 In his New York Times bestselling book Courage is Calling, author Ryan Holiday made the Stoic case for a bold and brave life. In this much-anticipated second book of his Stoic Virtue series, Holiday celebrates the awesome power of self-discipline and...
The instant New York Times, Wall Street Journal, and USA Today Bestseller! Ryan Holiday's bestselling trilogy—The Obstacle Is the Way, Ego is the Enemy, and Stillness is the Key—captivated professional athletes, CEOs, politicia...
Instant New York Times Advice & Business Bestseller, USA Today Bestseller, and Wall Street Journal #1 Bestseller!A New York Times Noteworthy Pick and a "stellar work" by Publishers WeeklyFrom the bestselling authors of The Daily Stoic comes an in...
Instant #1 New York Times Bestseller & Wall Street Journal BestsellerIn The Obstacle Is the Way and Ego Is the Enemy, bestselling author Ryan Holiday made ancient wisdom wildly popular with a new generation of leaders in sports, politics, and tec...
In Sailing the Wine-Dark Sea, his fourth volume to explore "the hinges of history," Thomas Cahill escorts the reader on another entertaining—and historically unassailable—journey through the landmarks of art and bloodshed...