Political Science - Labor & Industrial Relations
A revolutionary new argument from eminent Yale Law professor Daniel Markovits attacking the false promise of meritocracy It is an axiom of American life that advantage should be earned through ability and effort. Even as the country divides itse...
From the longtime New York Times labor correspondent, an in-depth look at working men and women in America, the challenges they face, and how they can be re-empoweredIn an era when corporate profits have soared while wages have flatlined, millions of...
An enraging, necessary look at the private prison system, and a convincing clarion call for prison reform." —NPR.orgNew York Times Book Review 10 Best Books of 2018 * One of President Barack Obama's favorite books of 2018 ...
"Outstanding… social history at its best." –The New York Times Book Review"An amazing, long-forgotten tale. A riveting history written with flair and precision."—Bob WoodwardIn one of the most honored books ...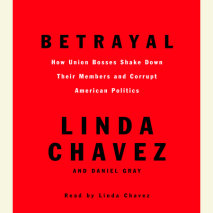 "Simply put, the leftist labor unions have the Democrats in their pockets. And we're all paying the price."Linda Chavez, President George W. Bush's original choice for Secretary of Labor and a former union official, is one of ...