Political Science - Public Affairs & Administration
President Bill Clinton gives us his views on the challenges facing the United States today and why government matters—presenting his ideas on restoring economic growth, job creation, financial responsibility, resolving the mortgage crisis, and ...
Revival is the dramatic inside story of the defining period of the Obama White House. It is an epic tale that follows the president and his inner circle from the crisis of defeat to historic success. Over the span of an extraordinary two months in th...
Bestselling author Jeffrey Toobin takes you into the chambers of the most important—and secret—legal body in our country, the Supreme Court, and reveals the complex dynamic among the nine people who decide the law of the land.Just in time...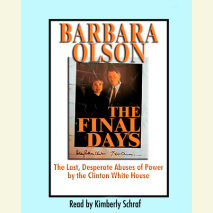 Barbara Olson was a trenchant critic of the Clinton White House, which she considered to be the home of two of the slickest kleptocrats ever to disgrace the Oval Office. In THE FINAL DAYS, Olson depicted the excesses and outright crimes she claims to...