Political Science - World - European
The madcap true story of how Rachel Johnson—born into one of Britain's most famous political families and known since childhood as "Rake"—tries and fails to get elected in the 2019 hard-fought effort to stop Brexit, running against h...
From the acclaimed military historian, a new history of the outbreak of World War I: the dramatic stretch from the breakdown of diplomacy to the battles—the Marne, Ypres, Tannenberg—that marked the frenzied first year before the war bogge...
The final chapter in the Penguin History of Europe series from the acclaimed scholar and author of To Hell and BackAfter the overwhelming horrors of the first half of the twentieth century, described by Ian Kershaw in his previous book as being 'to H...
In the humane tradition of Katherine Boo's Behind the Beautiful Forevers comes a searing account of the international refugee crisis.On the day of his son's fourteenth birthday, Hashem al-Souki lay somewhere in the Mediterranean...
A major new book by New York Times bestselling author and geopolitical forecaster George Friedman (The Next 100 Years), with a bold thesis about coming events in Europe. This provocative work examines "flashpoints," unique ...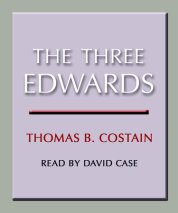 The Three Edwards is the third audiobook in Thomas B. Costain's The History of the Plantagenet series.
One is poised on the edge of victory, the other threatened by invasion and defeat yet holding on, his own life in the balance and also that of the free world.    In his reconstruction of the 80 days from May 10 to July 31, 1940, the author ...