Political Science - Genocide & War Crimes
The Nuremberg Interviews reveals the chilling innermost thoughts of the former Nazi officials under indictment at the famous postwar trial. The architects of one of history's greatest atrocities speak out about their lives, their careers in the...
A tale of Nazi lives, mass murder, love, Cold War espionage, a mysterious death in the Vatican, and the Nazi escape route to Perón's Argentina,"the Ratline"—from the author of the internationally acclaimed, award-winning East West Street...
A powerful story of war in our time, of love of country, the experience of tragedy, and a platoon at the center of it all. This is a story that starts off close and goes very big. The initial part of the story might sound familiar at first: it is ab...
"I set out to find a group of people who, like me, were possessed by a history they had never lived."The daughter of Holocaust survivors, Helen Epstein traveled from America to Europe to Israel, searching for one vital thin in common: their parent's ...
Published in association with the United States Holocaust Memorial Museum, a riveting story of Jewish families seeking to escape Nazi Germany.In 1938, on the eve of World War II, the American journalist Dorothy Thompson wrote that "a piece of paper w...
Since the beginning of the wars in Iraq and Afghanistan, uncounted thousands of civilians have died in the fighting and as a result of the destruction. These are deaths for which no one assumes responsibility and which have been presented, histo...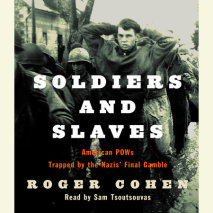 In February 1945, 350 American POWs captured earlier at the Battle of the Bulge or elsewhere in Europe were singled out by the Nazis because they were Jews or were thought to resemble Jews. They were transported in cattle cars to Berga, a concentrati...