Religion - Biblical Criticism & Interpretation
Today the Quran is used by some to justify war and acts of terrorism, the Torah to deny Palestinians the right to live in the Land of Israel, and the Bible to condemn homosexuality and contraception. The significance of scripture may not be immediate...
A literary history of our most influential book of all time, by an Oxford scholar and Anglican priestIn our culture, the Bible is monolithic: It is a collection of books that has been unchanged and unchallenged since the earliest days of the Christia...
Who is Allah? What does He ask of those who submit to His teachings? Pulitzer Prize-winner Jacke Miles gives us a deeply probing, revelatory portrait of the world's second largest, fastest-growing and perhaps most tragically misunderstood relig...
From the New York Times bestselling author of Walking the Bible and Abraham comes a revelatory journey across four continents and 4,000 years exploring how Adam and Eve introduced the idea of love into the world, and how they continue to shape our de...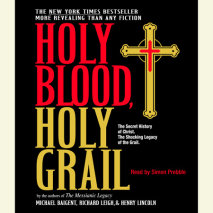 Is the traditional, accepted view of the life of Christ in some way incomplete?• Is it possible Christ did not die on the cross?• Is it possible Jesus was married, a father, and that his bloodline still exists?• Is it po...