Religion - Christian Living - Prayer
A collection of timely, stirring, and witty prayers that give language to the full breadth of our everyday experiences—from joy to sorrow, and everything in between   "This is the prayer book I need right now, full of humor and beaut...
NEW YORK TIMES BESTSELLER • For the weary, the angry, the anxious, and the hopeful, this collection of moving, tender prayers offers rest, joyful resistance, and a call to act, written by Barbara Brown Taylor, Amena Brown, Nadia Bolz-Weber, and ...
ECPA BESTSELLER • CHRISTIAN BOOK AWARD FINALIST • The beloved Bible teacher and daughter of Billy Graham shares a rich treasury of her personal prayers to guide you into deeper, more intimate daily conversations with God. Why is i...
"Step into a life gripped by a God who calls you into more—more faith, more freedom, and more victory."—Levi Lusko, pastor and bestselling authorYou are meant to receive the abundance God promises here and now. You are no...
Renowned pastor and New York Times–bestselling author of The Songs of Jesus Timothy Keller explores the power of prayer.  Christians are taught in their churches and schools that prayer is the most powerful way to experience...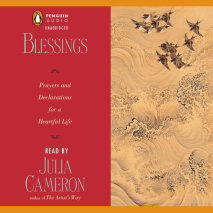 Through her writings and workshops, Julia Cameron has inspired millions to pursue their dreams. In the tradition of Heart Steps, Blessings reveals the keys she uses to reconnect herself with the source of her creative spirit. Focusing on gratitude an...
If you're not daring to believe God for the impossible, you may be sleeping through some of the best parts of your Christian Life. "This book is not a Snuggie. The words on these pages will not go down like Ambien. I'm not writing to...