Religion - Christian Living - Professional Growth
Manage your time the way Jesus managed his with a biblical antidote to swamped to-do lists and hurried schedules."A highly practical road map."—Mark Batterson, New York Times bestselling author and lead pastor of National Community ...
A high-impact leadership coach gives you the tools you need to maximize your influence in a new role, giving you the ability to meet any challenge and take your team, organization, church, or company to new heights."A practical path to maximizi...
A powerful call to step into your full potential that biblically affirms the need for women to rise up and work together to make a better world. "Jo is one of my most trusted voices in Christian leadership. . . . She leads auditoriums full of pe...
What is your one thing? The entrepreneur, thought leader, and best-selling author of Called to Create offers a refreshing invitation: stop trying to do it all so you can thrive in your unique, God-given work. "A compelling case for em...
The president of Catalyst Leader believes that the most impactful and most influential leaders are the ones who lead from who they truly are, not who they pretend or wish to be.With clear biblical teaching and personal accounts, Tyler Reagin not only...
An influential pastor, podcaster, and thought leader believes it's not only possible to predict life's hardest moments, but also to alter outcomes, overcome challenges, and defeat your fiercest adversaries.Founding Pastor of one of North America's mo...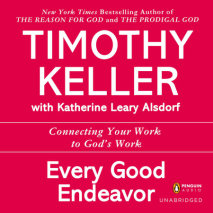 New York Times bestselling author Timothy Keller shows how God calls each of us to express meaning and purpose through our work and careers.In a work world that is increasingly competitive and insecure, people often have nagging questions: Why am I d...