The New York Times bestseller from the author of Hallelujah Anyway, Bird by Bird, and Almost EverythingAuthor Anne Lamott writes about the three simple prayers essential to coming through tough times, difficult days and the hardships of daily life.Li...
From pastor and New York Times bestselling author Timothy Keller comes a beautifully packaged, yearlong daily devotional based on the Book of Proverbs.Proverbs is God's book of wisdom, teaching us the essence and goal of a Christian life. In th...
Narrated by Mitra Rahbar, Jennifer Aniston, Michael Bernard Beckwith, Courteney Cox, Jackson Galaxy, Kristin Hahn, Diane Lane, Rama Morovati, and Billy Dee Williams, with a bonus guided meditation including music and vocals by Mitra Rahbar and Rama M...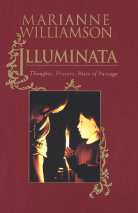 Marianne Williamson's bestselling A Return to Love ended with a prayer in which she asked God to help us "find our way home, from the pain to peace, from fear to love, from hell to Heaven." Now, in this stunning new collection of thoughts, ...