A strikingly original exploration of what it might mean to be authentically human in the age of artificial intelligence, from the author of the critically-acclaimed Interior States."Meghan O'Gieblyn is a brilliant and humble philosopher, and he...
Winner of The Believer Book Award for Nonfiction"Meghan O'Gieblyn's deep and searching essays are written with a precise sort of skepticism and a slight ache in the heart. A first-rate and riveting collection." --Lorrie MooreA fresh, acute, and even ...
From the bestselling author of Stitches, and Help, Thanks, Wow comes her long-awaited collection of new and selected essays on hope, joy, and grace.Anne Lamott writes about faith, family, and community in essays that are both wise...
Abridged CDs * 5 CDs, 6 hours

From the hilariously mad-as-hell Daily Show regular and New York Times– bestselling author comes a ferociously funny exploration of religion and faith.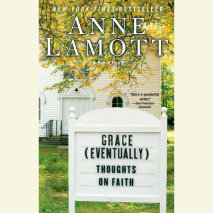 From the New York Times bestselling author of Dusk, Night, Dawn, Bird by Bird, Hallelujah Anyway, and Almost Everything "Lamott has chronicled her wacky and (sometimes) wild adventures in faith in...the wonderful Grace (Eventually)." (Chicago Su...