Science - Physics - Electricity
Physics professor, bestselling author, and dynamic storyteller James Kakalios reveals the mind-bending science behind the seemingly basic things that keep our daily lives running, from our smart phones and digital "clouds" to x-ray machin...
A physicist explains daily phenomena from the mundane to the magisterial.Take a look up at the stars on a clear night and you get a sense that the universe is vast and untouchable, full of mysteries beyond comprehension. But did you know that the key...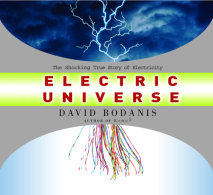 The bestselling author of E=mc2 weaves tales of romance, divine inspiration, and fraud through an account of the invisible force that permeates our universe—electricity—and introduces us to the virtuoso scientists who plumbe...