One of TIME's Ten Best Nonfiction Books of 2018

"Meet the new Stephen Hawking . . . The Order of Time is a dazzling book." --The Sunday Times

From the bestselling author of Seven Brief Lessons on Physics, a concise, elegant exploration of time that makes an excellent holiday gift.
Instant New York Times Bestseller
#1 Wall Street Journal Business Bestseller
Instant Washington Post Bestseller

"Brims with a surprising amount of insight and practical advice." --The Wall Street Journal

Daniel H.
From the best-selling author of Gratitude, On the Move, and Musicophilia, a collection of essays that displays Oliver Sacks's passionate engagement with the most compelling and seminal ideas of human endeavor. evolution, creativity, memory, time, consciousness, and experience.
"A time-jumping, head-tripping odyssey." —The Millions
"A bracing swim in the waters of science, technology and fiction." —Washington Post
"A thrilling journey of ideas.
From Brian Greene, one of the world's leading physicists, comes a grand tour of the universe that makes us look at reality in a completely different way.

Space and time form the very fabric of the cosmos. Yet they remain among the most mysterious of concepts.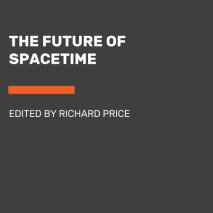 Where the science of black holes, gravitational waves, and time travel will likely lead us, as reported by spacetime's most important theoreticians and observers.

Our minds tell us that some things in the universe must be true. The New Physics tells us that they are not, and in the process, blurs the line between science and science fiction.