Social Science - LGBT Studies - General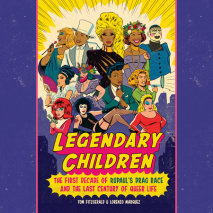 A definitive deep-dive into queer history and culture with hit reality show RuPaul's Drag Race as a touchstone, by the creators of the pop culture blog Tom and LorenzoFrom the singular voices behind Tom and Lorenzo comes the ultimate guide to all-thi...
Younger star and LGBTQIA+ advocate Nico Tortorella investigates love, sex, gender, addiction, family, fame, and fluidity through their personal story and the lens of their nonbinary identity "Nico Tortorella embodies the twenty-first-...
"...a remarkable audio experience that emphasizes the revolutionary power of LGBTQ voices and provides an invaluable record of a community that refuses to be silenced." -AudioFile magazine Earphones Award winnerFor the fiftieth anniversary ...
An intimate portrait of a new generation of transmasculine individuals as they undergo gender transitions Award-winning sociologist Arlene Stein takes us into the lives of four strangers who find themselves together in a sun-drenched surgeon's ...