Sports & Recreation - Fishing
Ten harrowing firsthand tales of survival from the creators of the New York Times bestselling audio collection MeatEater's Campfire Stories: Close Calls. In Campfire Stories: Narrow Escapes & More Close Calls, storytellers take us from Florida t...
Christmas Island. The Russian Arctic. Argentine Patagonia. Japan. Cuba. British Columbia.Dylan Tomine takes us to the far reaches of the planet in search of fish and adventure, with keen insight, a strong stomach and plenty of laughs along the way. C...
Gather around for campfire stories with the MeatEater crew as they share sixteen harrowing true tales of survival, grit, and misfortune in the great outdoors—an immersive audio experience from the host of the long-...
Tales of a champion surfcaster: the education of a young woman hell-bent on following her dream and learning the mysterious and profound sport, and art, of surfcasting, on the island of Martha's Vineyard.   Janet Messineo knew from the get...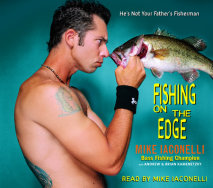 With his colorful tattoos and booming hip-hop sound track, Mike Iaconelli has turned the world of big-money competitive bass fishing upside down. In Fishing on the Edge, Iaconelli tells his own story–and it's a whopper: a Philly-born, Je...