Sports & Recreation - Animal Sports - Horse Racing
"Sullivan has found the transcendent in the horse."--Sports IllustratedWinner of a 2004 Whiting Writers' AwardOne evening late in his life, veteran sportswriter Mike Sullivan was asked by his son what he remembered best from his three decades in the ...
The dramatic true story of two brothers living parallel lives on either side of the U.S.-Mexico border—and how their lives converged in a major criminal conspiracy José and Miguel Treviño were bonded by blood and a shared vision o...
#1 NEW YORK TIMES BESTSELLER • From the author of the runaway phenomenon Unbroken comes a universal underdog story about the horse who came out of nowhere to become a legend. Seabiscuit was one of the most electrify...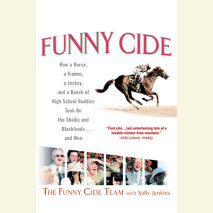 They had no business being there. They were up against million-dollar horses owned by patricians, oilmen, Arab sheiks, and Hollywood producers. They were ten regular guys, and all they wanted was to win a race. Instead, they won the hearts of America...