Sports & Recreation - Hunting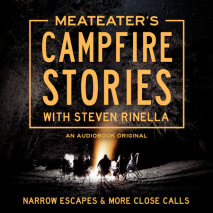 More harrowing firsthand tales of survival from the creators of the New York Times bestselling audio collection, MeatEater's Campfire Stories: Close Calls. Featuring stories from Steven Rinella, MeatEater's Clay Newcomb and Kevin Gillespie, spearfis...
Gather around for campfire stories with the MeatEater crew as they share sixteen harrowing true tales of survival, grit, and misfortune in the great outdoors—an immersive audio experience from the host of the long-...
"Revelatory . . . With every chapter, you get a history lesson, a hunting lesson, a nature lesson and a cooking lesson. . . . Meat Eater offers an overabundance to savor."—The New York Times Book Review  Steven Rinella grew up ...
Here is armed America—a land of machine-gun gatherings in the desert, lederhosened German shooting societies, feral-hog hunts in Texas, and Hollywood gun armories. Whether they're collecting antique weapons, practicing concealed carry, or...