Sports & Recreation - Outdoor Skills
"Revelatory . . . With every chapter, you get a history lesson, a hunting lesson, a nature lesson and a cooking lesson. . . . Meat Eater offers an overabundance to savor."—The New York Times Book Review  Steven Rinella grew up ...
INSTANT NATIONAL BESTSELLERNEW YORK TIMES MONTHLY BESTSELLEROne of the 10 Best Books of March, Paste MagazineA deeply reported insider perspective of Alex Honnold's historic achievement and the culture and history of climbing."One of...
Follow-up to the New York Times bestseller Spy Secrets That Can Save Your Life--revealing high-stakes techniques and survival secrets from real intelligence officers in life-or-death situations around the worldEveryone loves a good spy story, but mos...
An acclaimed bow hunter who defies the stereotype that hunting is a man's game, Eva Shockey is at the forefront of a new wave of women and girls who are passionate about outdoor sports.   Eva Shockey grew up expecting to be a dancer...
The New York Times bestseller that reveals the safety, security, and survival techniques that 99% of Americans don't know—but shouldWhen Jason Hanson joined the CIA in 2003, he never imagined that the same tactics he used as a CIA officer...
The bestselling author of No Shortcuts to the Top and K2 chronicles his three attempts to climb the world's tenth-highest and statistically deadliest peak, Annapurna in the Himalaya, while exploring the dramatic and tragic history of others who have ...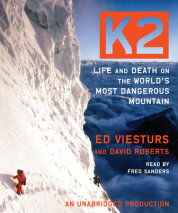 A thrilling chronicle of the tragedy-ridden history of climbing K2, the world's most difficult and unpredictable mountain, by the bestselling authors of No Shortcuts to the TopAt 28,251 feet, the world's second-tallest mountain, K2 thrusts skyward ou...